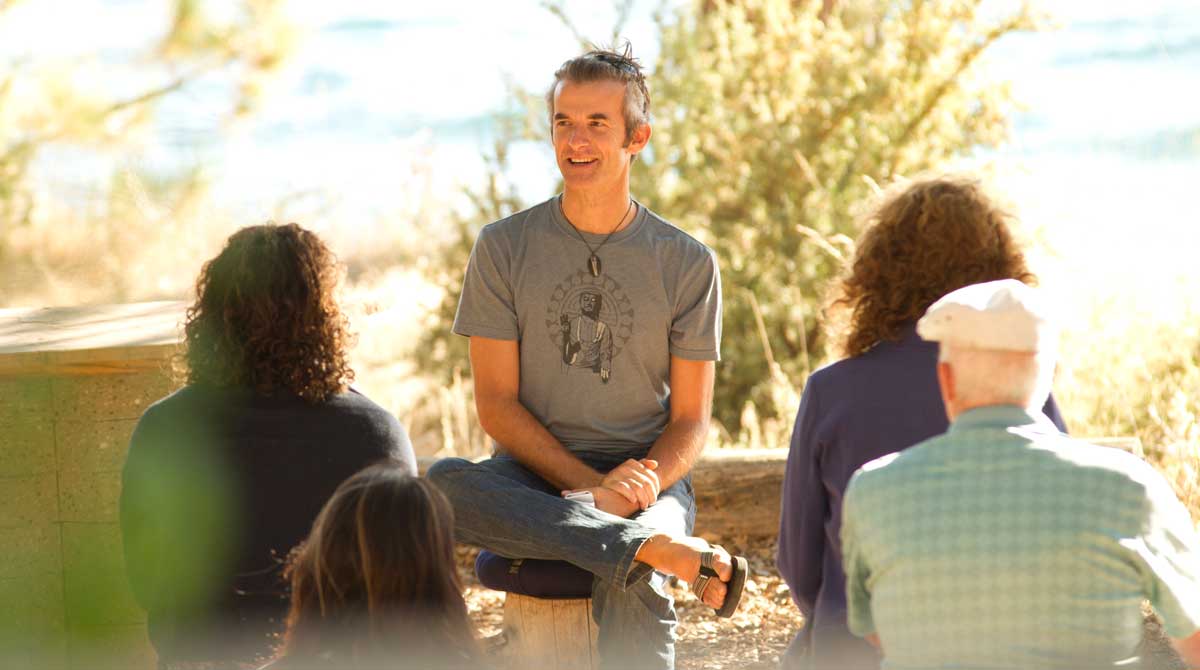 Awake in the Wild Teacher Training
The Awake in the Wild Teacher Training is an apprenticeship training in guiding contemplative nature practice, inspired by the wisdom teachings from the Buddhist tradition, by Mark Coleman's book Awake in the Wild (AITW) and by the wilderness retreats led by Mark for more than a decade across the Americas. Nature meditation brings mindful awareness practices into the outdoors as a support for presence, connection, and insight. Mark is excited to share this cherished work with a group of dedicated nature meditation practitioners that will give them tools to begin to share similar practices with others.
The Awake in the wild Teacher Training is for people who care deeply about the earth, who have a a strong Dharma / meditation practice and who take that contemplative presence into the outdoors. Equally important, it is for those who feel called to take people deep into nature with a spirit of reverence and contemplation.
This program will have four residential retreats with Mark in California, the western states, or Mexico. There will also be monthly online tutorials, personal nature-based work and a teaching practicum.
AWAKE IN THE WILD TEACHER TRAINING COURSE DETAILS
Intention
This in-depth apprenticeship training in nature-based mindful contemplative practice trains you to:
Teach mindfulness in nature
Teach specific AITW practices
Facilitate meditation in nature immersive experiences
Teach AITW classes, daylong and weekend programs
Certification
The Awake in the Wild Teacher Training will be organized under an apprenticeship model. This means that Mark will be sharing his heart and soul's knowledge of nature-based meditation as a way to inspire your own creativity and nature-based work. Upon successful completion of the course, you may teach nature-based meditation practices and we encourage you to be creatively inspired by Mark's practices and content. If, after gaining experience teaching nature-based meditation workshops and courses, you would like to become a certified Awake in the Wild teacher, you are encouraged to apply for authorization that may requires apprenticing with Mark.
As you can see, this is a different model than a typical teacher training and we feel it will best support the work to thrive – based on creative empowerment and learning by apprenticing.
Format
This training will take place over one year including 4 Awake in the Wild immersion retreats. It will include:
Multiple immersions in the Awake in the Wild experience
Orientation to teaching foundational and in-depth nature-based meditation practices
Applications of contemplative practice in the wild to daily life
Nuts and bolts of organizing and holding a nature meditation course
Exploring the key elements of a Awake in the Wild course which includes cultivating the areas of silence, meditation, community, wilderness awareness, inquiry, mindfulness and love
Learning how to teach nature-based practices in multiple formats
Understanding issues of diversity and cultural sensitivity to different populations
Integrate issues relating to the climate / ecological crisis in the context from a mindfulness and compassionate perspective
Teacher
Mark Coleman

Mark Coleman

Mark is an unabashed nature lover and, through his organization Awake in the Wild, he shares his passion for integrating meditation and nature. He leads wilderness meditation retreats from Alaska to Peru, taking people on inner and outdoor adventures. Through Awake in the Wild, Mark also leads year-long meditation-in-nature teacher trainings in the US. He is the author of From Suffering to Peace: The True Promise of Mindfulness, Make Peace with Your Mind: How Mindfulness and Compassion Can Help Free You from the Inner Critic and Awake in the Wild: Mindfulness in Nature as a Path of Self-Discovery.

Mark is an inner and outer explorer, who has devotedly studied mindfulness meditation practices for three decades. He is passionate about sharing the power of meditation and has taught mindfulness workshops and meditation retreats in six continents for the past twenty years. Mark is a senior meditation teacher at Spirit Rock Meditation Center and has taught there since 2000. He holds a MA in Clinical Psychology and draws on his extensive experience in working with people as a therapist and coach. Mark lives in Marin County, California and enjoys spending his free time hiking, biking and kayaking.