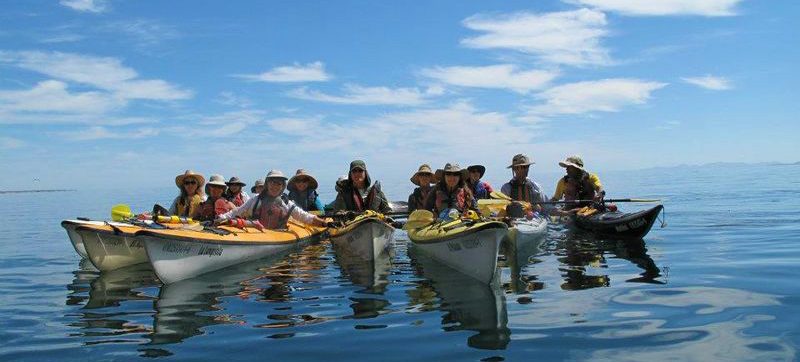 Baja Kayaking and Meditation Retreat
Highlights
Kayaking around the islands near Loreto
Led by Mark Coleman/Awake in the Wild
Breathtaking natural beauty throughout your trip
Experienced guides steeped in local knowledge
Opportunities to meditate in peaceful natural environs
Description
Sea Trek is happy to offer a Vipassana meditation retreat and sea kayaking trip in the pristine wilderness of the Sea of Cortez. When you go on this trip, you get the same experience as their Classic Islands trip, but with a focus on mindful meditation with and within nature.
Meditation practitioner Mark Coleman has been practicing Buddhist meditation since 1984. He is a Spirit Rock Meditation Teacher and has been teaching Insight meditation retreats since 1997, and has written a book, Awake in the Wild: Mindfulness in Nature as a Path of Self-Discovery. With Mark on this trip, you have an experienced outdoorsman who can help you with the internal adjustments necessary on a trip like this.
The retreat will be mostly in silence to support the meditative process, and there will be several periods of meditation daily as well as time for discussion, talks on the themes of meditation in nature, talking circles and opportunities for one to one work with the Mark Coleman. There will also be free time to paddle, swim, snorkel and enjoy this spectacular setting.
All Sea Trek Baja trips start in the quaint little town of Loreto, located on the Baja peninsula about 600 miles south of San Diego. In most cases there is only one inbound and outbound flight a day, so our afternoon/evening meeting on day 1, and our end of trip logistics are built around that timing.
Given the COVID-19 concerns that we are all currently watching, many travelers may want to consider "Cancel for Any Reason" coverage. CFAR is more expensive than regular travel insurance, and usually only covers up to 75% of the non-refundable portion of your trip payment, but this type of coverage may be the right choice for you. This coverage typically must be purchased within 21 days of paying your initial trip deposit. https://www.travelexinsurance.com/  
FOR BAJA TRIPS: For the 2021 and 2022 season Cancel for Any Reason (CFAR) Insurance is highly recommended for all Sea Trek clients booking a trip to Baja. If you don't want to purchase CFAR insurance then you'll be required to sign a declaration agreeing to the non-refundable cost of the trip.
Teacher
Mark Coleman

Mark Coleman

Mark is an unabashed nature lover and, through his organization Awake in the Wild, he shares his passion for integrating meditation and nature. He leads wilderness meditation retreats from Alaska to Peru, taking people on inner and outdoor adventures. Through Awake in the Wild, Mark also leads year-long meditation-in-nature teacher trainings in the US. He is the author of From Suffering to Peace: The True Promise of Mindfulness, Make Peace with Your Mind: How Mindfulness and Compassion Can Help Free You from the Inner Critic and Awake in the Wild: Mindfulness in Nature as a Path of Self-Discovery.

Mark is an inner and outer explorer, who has devotedly studied mindfulness meditation practices for three decades. He is passionate about sharing the power of meditation and has taught mindfulness workshops and meditation retreats in six continents for the past twenty years. Mark is a senior meditation teacher at Spirit Rock Meditation Center and has taught there since 2000. He holds a MA in Clinical Psychology and draws on his extensive experience in working with people as a therapist and coach. Mark lives in Marin County, California and enjoys spending his free time hiking, biking and kayaking.