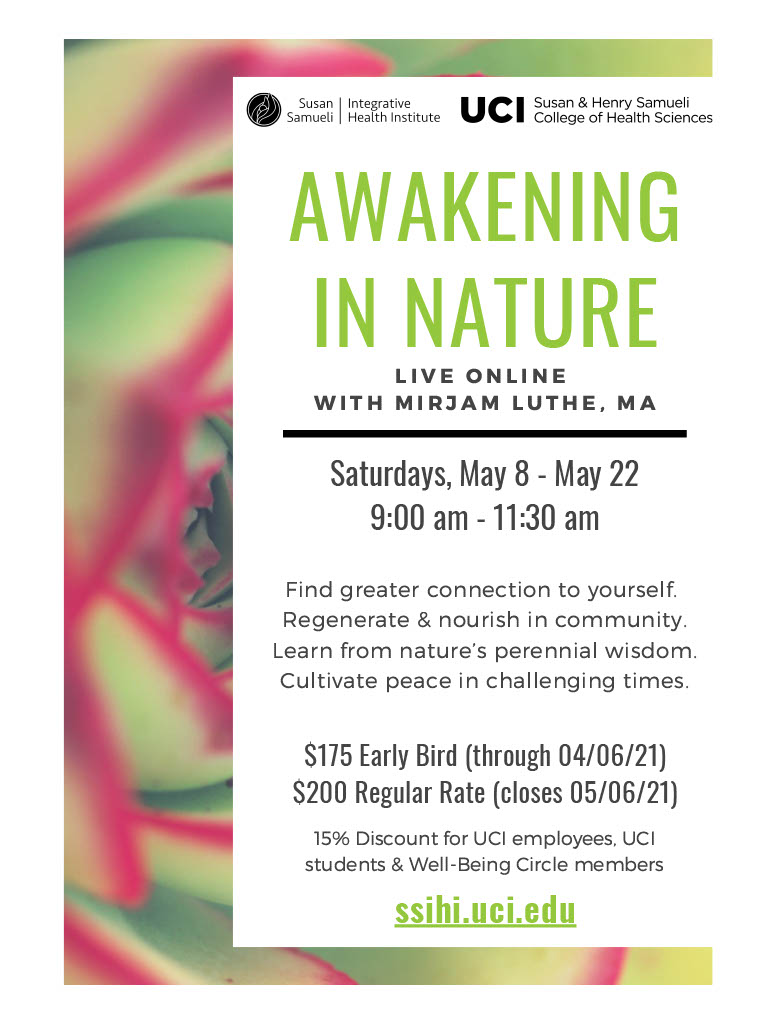 LIVE ONLINE Awakening in Nature
Do you feel like joining a mindful group process exploring your innate capacities for "Awareness – Belonging – Caring" in relation to Nature?
In this 3-week live, online course from the location that is accessible to you (be it a calm outdoor space, your garden, balcony or in these times of physical distancing a room with a view outside), you will have an opportunity to find greater connection to yourself and regenerate and nourish in community. We will utilize various sensory awareness practices and mindfulness-based meditations to support us being present and awake to our direct experience and to the wonder and mystery of nature. Tending to the diverse environments we are in, we will learn from nature's perennial wisdom that teaches us about change, inter-dependence, letting go, looking deeply, appreciating and savoring. We will explore our capacity to be with what is, aware that circumstances outdoors and in nature are not predictable. We will explore the interconnection between our inner and outer landscape, and how nature touches and evokes certain qualities like resilience, creativity, joy and compassion in us. We will learn ways to cultivate a greater sense of peace and equanimity in challenging times, explore ways to open our heart and learn skills to integrate these practices into our everyday life.
In our practice, mini-talks about relevant topics, scientific research and health benefits will be interwoven with guided meditations, group exercises, movement outdoors and sharing time in small groups and in our circle. We will touch Foundational Mindfulness Practices, Sensory Awareness, Heart and Wisdom Practices. We will also tend to our bodies and eyesight in front of screens. Practices are intended to be adapted to your daily routines. 
Contemplative nature practice in a group – even virtually – allows for an experience of settling, nourishment, inspiration, and connection with oneself and with each other . It can become the springboard  to dedicated intentional action and engagement.
No meditation experience necessary. All levels of practitioners are welcome.
Voices from the last course (January 2021): 
"I believe this course is more important than people may realize, I realized that for me it helped to bring forth setting an intention to stop, breath, and look at the natural beauty of this earth which I often forget to do. This course is my reminder."
"I appreciated the community developed and the way Mirjam led the course created more and more openess and trust for the group. Brought to mind some personal feelings/thoughts through her readings, questions, interactions with the group. Reminded me to seek the simpleness of nature which I often forget and Mirjam inspires."
"It was difficult to imagine "Awakening in Nature" during the pandemic, remotely, through Zoom, but Mirjam delivered. She is a gifted instructor who provided unique meditations and exercises to teach the concept that you don't need to be immersed outdoors to find the peace of nature but that nature is all around: in urban areas, in your home, and most importantly, in yourself. I especially enjoyed her weekly emails with deep resources including recorded meditations. I was extremely satisfied with her course and can only imagine how amazing it would be in a retreat setting. Hard to imagine it being better!"
"A renewed sense of community, with the shared joy, appreciation and awe inspiring of nature in its many forms."
"The instructor, Mirjam Luthe, has a very calming, warm, and gentle quality about her. She is clearly an expert in her field. I would highly recommend her for any courses she leads and personally look forward to taking another course with her in the near future."
"I started to value my time in nature and to be more observant of the natural world around me. Also, I can use nature as a reference point now more often in order to remind myself to stay in the present moment."
"I have always found healing being around nature, but this course with Mirjam deepened my attitude of "awe" and gratitude to all living beings around me in a deeper and more experiential way. Awakening in Nature provided me with theoretical content on the subject, but that one can get from other sources. The main thing for me was Mirjam's presence and soft voice, gentleness in facilitating the mindful dialogue practice and discussions, the body scan and unique way of inviting us to get out and experience Nature in all its richness and beauty. Even through Zoom, Mirjam was able to create a intimate environment in the group."
Teacher
Mirjam Luthe

Mirjam Luthe

Mirjam (M.A. International Cultural & Business Studies, Development Cooperation & NGO Management) is a practising Certified MSC, MBSR and Yoga Teacher, trained in the Mindful Schools Curriculum, and experienced in Council Practice and contemplative dialog. She cooperates since 2016 with the Center for Mindful Self-Compassion (CMSC) as International Affairs Manager and has taught MSC in Germany, Vietnam and in California. She also works for Arbor Seminare and, on a voluntary basis, in the core team of the European Network for Grateful Living "Dankbar leben". She trains in the "Awake in the Wild" nature meditation Teacher Training to integrate dharma and gratitude practice with her love for nature and experience in the outdoors. Mirjam's intention in her work is to grow together into more awareness of our human interconnectedness with our planet. She has lived in Spain, California and other countries, her home base being Freiburg, Germany and currently still Laguna Beach, California. Most of her work life was dedicated to project management, capacity building and evaluation in development cooperation. She passionately stands for a socially engaged practice out of a dharma perspective. As a mother of three, she cares deeply for how we can build sangha, learn and encourage each other. Opening our senses and re-learning to trust our bodies and hearts, humbly embedded in the great web of life, are accessible doorways into more peace and happiness and may lead to a needed change of mindset and way of action in the way we live our lives.