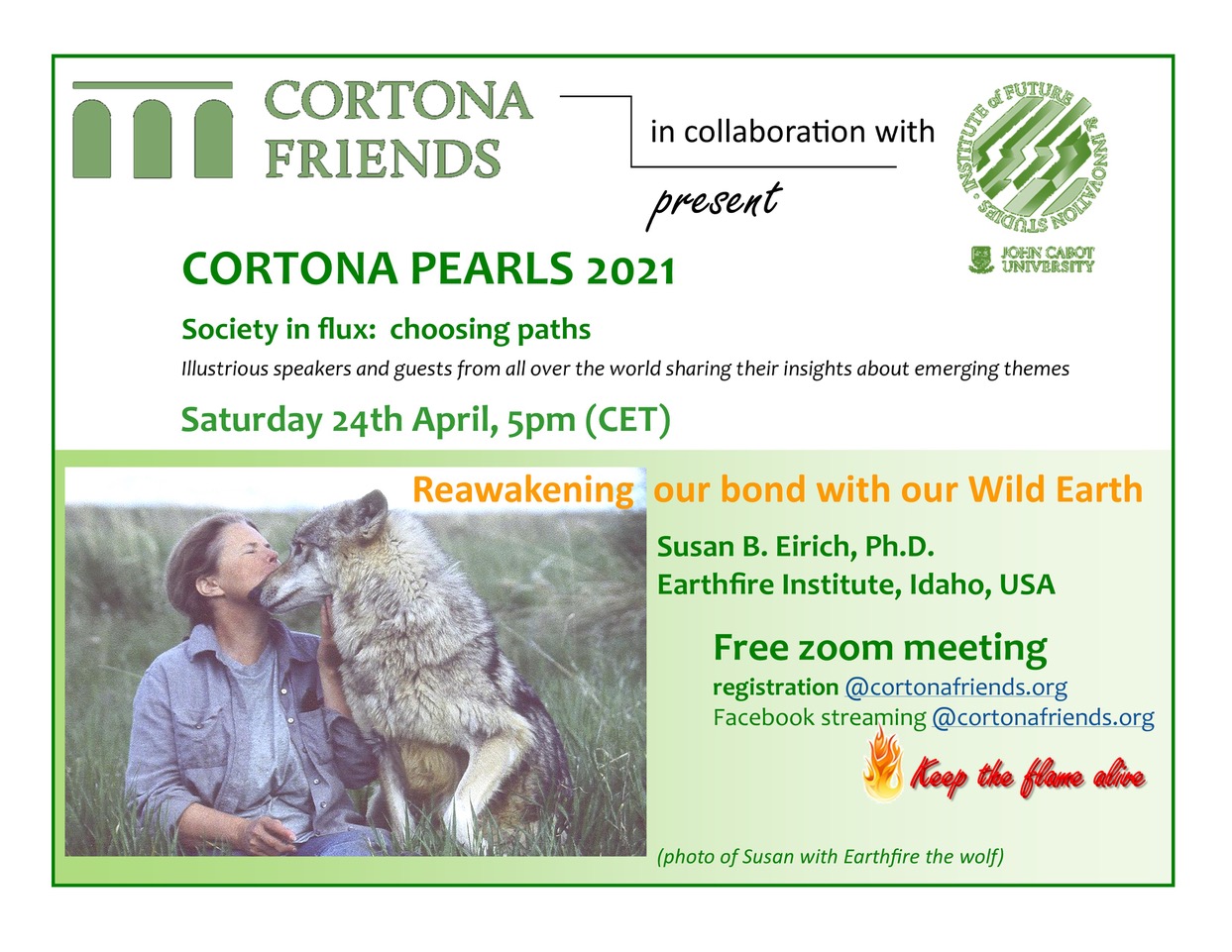 "Reawakening our bond with our Wild Earth" – Susan Eirich, EarthFire Institute, Idaho, USA, introduced by Mirjam Luthe
Cortona Week "Science and the Wholeness of Life" goes online in 2021: Cortona Pearls "Society in Flux: Choosing Paths".
Each 90-minute Pearl will consist of a 20-minute lecture followed by small group dialogs and a plenary session for Q&A. The program will be enriched by excerpts from our classic Cortona workshops and musical events.
Next Pearl 3 on Apr 24 from 5-6:30 pm CET): Susan Eirich, EarthFire Institute, Idaho, USA – "Reawakening our bond with our Wild Earth"
Moderation by Mirjam Luthe, Teacher and International Affairs Manager at Center for Mindful Self-Compassion, San Diego (USA) and Awake in the Wild Teacher
http://www.cortonafriends.org/cortona-week/cortona-pearls-2021/
Topic: Compassionate Conservation.
We have become disconnected from each other. What would happen if we expanded our sense of community to truly include all living beings in our thinking and planning? Imagine what the state of our environment would then be. Many of us have a deep longing for more in life, a sense of yearning; a loneliness. What if we are longing for something we innately have: a deep, visceral connection to the wild, animals, nature and true community. Then we would naturally be moved to mindfully save habitat so that all beings can thrive.
To solve our ecological and spiritual crises, human consciousness must expand to connect with all life, with its multitudes of intelligences, and expressions of spirit. Academic work, consciousness, and mindfulness movements tend to be abstract, and human or universe focused. It is important to add a vivid, vibrant connection with other-than-human beings to balance these approaches. We are embodied creatures of the Earth. It is the source of our sustenance, our strength, our wisdom. Connecting with animals can help with this. Many of us share a connection with dogs and cats or horses but wild animals can take us even deeper, serving as a portal into connecting with all Life. They can take us out of our human-centered way of thinking and into a larger frame of reference as we move forward on our human journey.
Teacher
Mirjam Luthe

Mirjam Luthe

Mirjam (M.A. International Cultural & Business Studies, Development Cooperation & NGO Management) is a practising Certified MSC, MBSR and Yoga Teacher, trained in the Mindful Schools Curriculum, and experienced in Council Practice and contemplative dialog. She cooperates since 2016 with the Center for Mindful Self-Compassion (CMSC) as International Affairs Manager and has taught MSC in Germany, Vietnam and in California. She also works for Arbor Seminare and, on a voluntary basis, in the core team of the European Network for Grateful Living "Dankbar leben". She trains in the "Awake in the Wild" nature meditation Teacher Training to integrate dharma and gratitude practice with her love for nature and experience in the outdoors. Mirjam's intention in her work is to grow together into more awareness of our human interconnectedness with our planet. She has lived in Spain, California and other countries, her home base being Freiburg, Germany and currently still Laguna Beach, California. Most of her work life was dedicated to project management, capacity building and evaluation in development cooperation. She passionately stands for a socially engaged practice out of a dharma perspective. As a mother of three, she cares deeply for how we can build sangha, learn and encourage each other. Opening our senses and re-learning to trust our bodies and hearts, humbly embedded in the great web of life, are accessible doorways into more peace and happiness and may lead to a needed change of mindset and way of action in the way we live our lives.