AitW Teacher Training
Become a Nature Meditation Teacher
Next Training: Sept 2021 – July 2022
Tuition: $5,950 –

Early Bird Discount: $500 by March 31st
The Awake in the Wild Teacher Training is an apprenticeship training in contemplative nature practice, inspired by traditional Buddhist wisdom, and by Mark Coleman's 2006 book Awake in the Wild. Mark has been leading wilderness retreats for mindful nature lovers across the Americas since 2003. Our community has grown to 50+ AitW trained teachers around the world.
When we bring awareness, inquiry, and meditation into the outdoors, we cultivate a deeper connection to ourselves, each other, and our planet. Mark is passionate about sharing this cherished work with dedicated practitioners so that they can continue to pass on these profound tools and practices. This training is for those who care deeply about the Earth, who have a strong Dharma/meditation practice, and who want to share contemplative presence with others in the outdoors.
Training Dates and Locations
There will be 4 week-long teaching retreats throughout the yearlong training. These retreats are where you will receive the bulk of your training from Mark Coleman, and may involve tent camping or staying in rustic cabins or lodges.
Due to the pandemic, the retreat dates and locations for the 2021-2022 training may be adjusted to allow for a successful roll-out of vaccinations. We are planning and hoping to hold the retreats on the following schedule:
September 1-7, 2021 | California (Location TBD)
December 13-19, 2021 | Baja, Mexico
April 4 – 10, 2022 | Location TBD
July 11 – 17, 2022 | Location TBD
There will also be monthly online tutorials, personal nature-based work, and a teaching practicum.
Training Schedule
What to Expect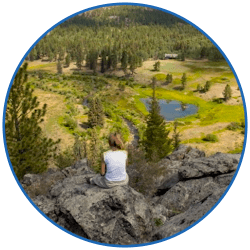 The Schedule of Activities
Students are expected to participate in the following activities:
The study of mindfulness-based nature meditation
Four weeklong, immersive study retreats in nature
Monthly online tutorials with Mark and faculty
Monthly small group meetings and a collegial learning community
A teaching practicum and teaching practice
Mentoring and supervision by Mark and faculty
Training Outcomes
The AitW Teacher Training will empower you to:
Skillfully teach mindfulness in nature in a variety of formats

Organize and facilitate nature classes, courses, and immersive retreats

Navigate the unique challenges of teaching nature-based meditation

Mindfully work with diverse populations

Integrate the reality of the ecological crisis into your teachings with compassion
Acquired Skills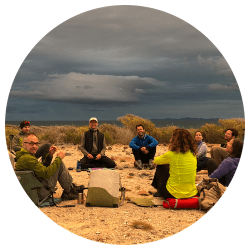 Costs of Training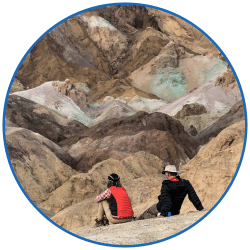 Tuition, Retreats, and Other Costs
EARLY BIRD DISCOUNT: $500 off if you apply by March 31, 2021
Tuition is $5,950, which does not include the costs associated with each retreat. Each retreat will cost roughly $350-600. This estimate excludes travel costs and depends on location and your choice of accommodations (tent camping will be less expensive than cabin choices).
Monthly payment plans are available. If you think you might be in need of a custom payment plan, please indicate that in the last question on the application form, and please give us a sense of what would be within your means.
Application Process
The application asks specifics on your meditation practice, your retreat experiences, your teaching experiences, and your intentions in taking the training. If you would like a downloadable, Word document version to submit or to use to prepare your online application, you may download it here. To submit the downloadable version, please email it to jen@awakeinthwild.com or, please click the button below, to apply online.
Prerequisites
Minimum three years regular meditation practice (mindfulness based)
One silent mindfulness/meditation retreats of 5-7 days or longer
Extensive experience being in nature
Disclaimer
This is not a Wilderness Guide Training (all AITW retreats are accompanied by a certified wilderness guide)
This is not a mindfulness teacher training. (Applicants are expected to have a pre-existing thorough understanding of mindfulness meditation and preferably have had some experience in teaching/facilitation)
To teach AITW intensive silent retreats longer than a weekend, this requires individual approval from Mark. Apprenticeship for this is available on an individual basis with Mark post-graduation
Start Your Application
Apply Today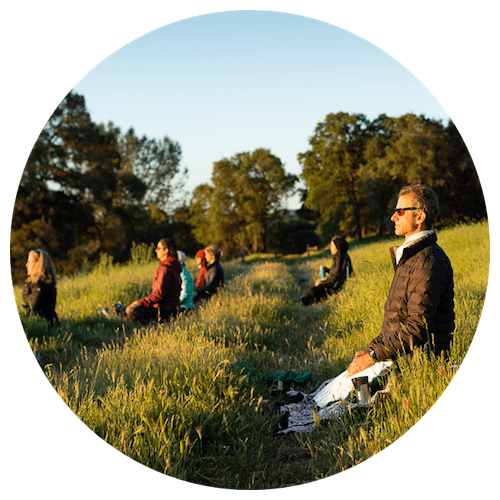 Ask us Anything!
If you still have questions about the training program, prerequisites,  travel components, self-study process, or anything else that might help you decide whether this training program is a fit for you, please do not hesitate to reach out to ask us for more information. We're happy to chat. You can contact Jen, our wonderful program administrator, with any and all questions.
Frequently asked questions
Ask a New Question
Apply Today