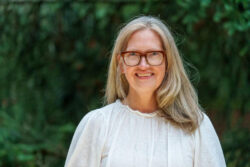 About Me
A champion of compassionate self-awareness, Ashley possesses a keen ability to infuse mindfulness into inner and outer life. She brings humor and a presence of calm thoughtfulness as she blends the teachings of wisdom traditions and contemplative practices with the wisdom and beauty of the natural world.
Ashley teaches mindfulness classes, series, workshops, trainings and retreats in a variety of indoor and outdoor settings, for both private and public sectors. Areas of specialty: nature-based contemplation, alleviating compassion fatigue, compassionate communication, healing-centered (trauma-informed) care, and beginning mindfulness meditation. She also offers mindfulness-based coaching for leaders, businesses and individuals.
Ashley earned her Master's in Social Work from the University of Washington. She has been practicing meditation in the vipassana (insight) tradition for over 20 years. Ashley is also an accredited Mindfulness Teacher through the Mindfulness Training Institute and certified through International Mindfulness Teachers Association. When she's not working, you'll still find her meandering in the woods, being mesmerized by dunes and waves along the Oregon coast, and being quiet in the desert. Learn more about Ashley at openspacemindfulness.com.