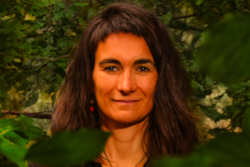 Blanca Martin-Calero
Fontainebleau, FR
About Me
My interest on Meditation and my view of stress as one of the major causes of suffering in society today, lead me to teach Mindfulness programs for wellbeing and stress reduction.
My previous professional experience minimizing the environmental impact in Industry awake me up to the environmental challenges we face. Today Nature is a passion, extremely sensitive, that drives me to encourage Nature awareness through outdoors Mindfulness courses and Nature connection practices. In Nature we can strongly connect and develop calm, clarity, creativity and empathy.
Olympic player with the Handball Spanish National Team in 1992 (67 performances with the Spanish National Team), this makes me a fighter and passionate person, someone who enjoys challenges and who believes that life is an adventure we have to live with joy, gratitude and sense of playfulness.
All these values drive me today to stand up and commit for a more "mindful" and conscious society, tremendously necessary regarding social and environmental crisis. A mindful society to really appreciate and connect the beauty of life and the planet we share.