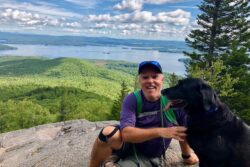 About Me
Bob is a meditation and mindfulness teacher trained at The Center for Mindfulness at UMass Medical School and certified through Brown University where he currently teaches Mindfulness-Based Stress Reduction (MBSR) as well as serving as a teacher trainer for those on the certification pathway.
Bob is a true seeker, always on a quest to understand the mysteries of life. He has been practicing meditation for over 40 years and his quest led him to pursue a Master's Degree in the study of comparative religion at Harvard Divinity School. After traveling the world to learn directly from a wide variety of spiritual teachers, including living with the Diné (Navajo) for two years he began a career in teaching high school world religions and outdoor education.
A passion for the natural world and places of great beauty have always been at the core of Bob's life. In 2018 Bob signed up for an Awake in the Wild retreat with Mark Coleman in Vallecitos, New Mexico which changed his life and his practice. The simple invitation to take his practice outside in nature became a profound shift that enabled him to bring together both passions – meditation, and nature. Without a moment's hesitation, Bob enrolled in the Awake in the Wild Teacher Training and graduated in 2022.
In addition to teaching MBSR, Bob currently works for the City of Boston as a behavioral health manager using mindfulness as a mental health intervention for older adults across the city. He also leads half-day immersive retreats at Harvard's Arnold Arboretum.