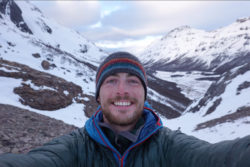 About Me
Brophy was trained as a yoga teacher in Bali, and recently spent 80 consecutive days living, sitting, savoring, and climbing mountains in the remote backcountry of Patagonia. He has explored the jungles of the Amazon, the frozen tundras of the Arctic, and the wild corners of Alaska, New Zealand, New England, and the Himalayas – and carries all of those places with him.
He dreams of facilitating experiences that inspire others to fall deeply in love with the natural world – experiences that provoke awe, wonder, and joy… experiences that reveal the profound beauty, abundance, and connection that defines what it means to be a human in this intricate web of life. He believes deeply that Nature holds the answers to the problems and struggles that we face collectively and as individuals, if we can be quiet enough to truly listen.
He can now be found living and playing among the Great Pines and Mountains of Lake Tahoe.