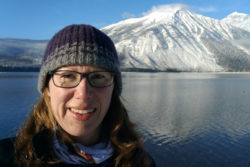 Christine Lustik
Missoula, MT
About Me
Christine Lustik, PhD is owner of Mindfulness in Organizations, LLC.  After spending 14 years in leadership and the online education arena of higher education, Christine transitioned to a role of helping people thrive in their own lives both professionally and personally.  Christine trains individuals and groups within education, non-profit, healthcare, government, and corporate to practice Mindfulness and pro-active resilience with the goal of decreasing stress and chaos and increasing focus and resiliency.
Whenever possible, Christine prefers to teach outside, allowing nature to be the conduit for connection and awareness.   Christine teaches regular half and full day Mindfulness in nature labyrinth retreats.  In addition, she loves to combine nature, Mindfulness, and team building to create unique organization specific team and leadership retreats. Based in Missoula, Montana Christine spends her spare time in winter as a volunteer ski patroller.
Christine is trained by the Mindfulness Training Institute in San Francisco and the Awake in the Wild Mindfulness program.  In addition, she maintains Outdoor Emergency Care certification as a first responder with the National Ski Patrol.