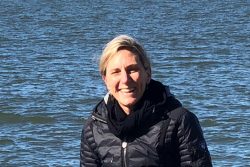 Jane Sedonaen
Berkeley, CA,
Jane Sedonaen is a mindfulness instructor certified by the International Mindfulness Teacher's Association (IMTA). She received her teacher training through the Mindfulness Training Institute and completed nature-based mindfulness teacher training with Mark Coleman (Awake in the Wild).
Jane is a founding partner of The Mindfulness Collaborative (www.mindfulnesscollaborative.com) where she is currently specializing in mindfulness in nature practices. She leads daylong mindfulness in nature retreats and teaches introduction to mindfulness classes. She is passionate about the connections between people and outdoor spaces and the benefits to health and wellness. Her teaching particularly explores the use of nature-based mediation practices to counterbalance the impacts of technology on our lives. Her interest in outdoor environments is enhanced by her master's degree in recreation and her work as a licensed landscape architect and owner of the design firm Integrated Design Studio.
Jane lives in Berkeley, CA, and enjoys water sports, biking, gardening, reading, and spending time with her small dog.