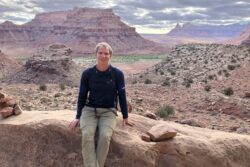 About Me
When Joe moved from New York City to Colorado in 2017, he was inspired to rediscover his relationship with the natural world. Since then, he's been reconnecting with the wonder, curiosity, and sense of belonging that he felt as a child playing in the forests of Massachusetts. He believes that contemplative time in nature can open portals to new ways of understanding our interior lives. Through the Awake in the Wild work and his own wilderness explorations, he has found a more grounded sense of purpose and belonging in this world.
Joe enjoys the wide array of invitations offered to us in the outdoors. He loves kindling a sense of exploration while backpacking, embracing physical challenge and bodily awareness while mountain biking, and settling into the light conviviality of an evening hike with friends. He believes that genuine time in nature can enliven many of our most essential human qualities such as connection, imagination, appreciation, and responsible action. Joe is currently working with local nature centers and other organizations to support mindfulness, self-compassion, and relationship with the natural world.
Prior to becoming a certified Awake in the Wild teacher, Joe worked as a marketing research analyst. Through his mindfulness practice, the wisdom of the natural world, and loving support from family, friends, and teachers he is now embarking on a more soul-aligned path in his life. He hopes to help others cultivate calmness, self-understanding, and courage to discover what enlivens their own hearts and minds.