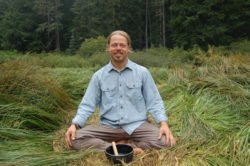 Justin Michelson
Eugene, OR
About Me
Justin's love for nature and mindfulness started young.  He discovered Insight Meditation at the early age of 15, years after the forests and mountains of the Pacific Northwest had already primed his spiritual inspiration.  In the decades that followed, his path has led him through academia, meditation retreat centers, farms and gardens, non-profit education work, and finally to running a native plant nursery and sharing the practices of Insight Meditation. Today, he remains committed to bringing people back to the wisdom of nature through sharing the beauty of native plants, and offering nature-based meditation retreats.
Justin leads an Insight Meditation sangha in Eugene, Oregon, and nature meditation retreats throughout the Oregon Cascades.  He is authorized to teach under the auspices of senior dharma teacher, Rodney Smith, as well as through the Community Dharma Leader program at Spirit Rock Meditation Center, and as a teacher of Awake In The Wild nature meditation through Mark Coleman.
His passionate teachings weave together the essential wisdom of the Dharma with a love for the natural world.  His guidance emphasizes the cultivation of a natural mindfulness, one that is easeful, expansive, and connected, opening students up to the freeing experience of interdependence while inspiring deeper care and compassion for the planet.  He feels deep gratitude and joy for the transformative and critical nature of this work in the world at this time.