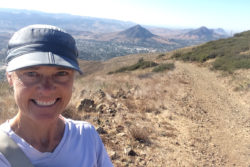 Kelli Schonher
San Luis Obispo, CA
About Me
In 2017, Kelli Schonher graduated from Mark Coleman's two-year Awake in the Wild Mindfulness Teacher Training program and recently completed a yearlong program to teach mindfulness through the Mindfulness Training Institute, which is an accredited programs with the International Mindfulness Teachers Association. She has been practicing in the Insight meditation tradition for almost 30 years and completed Spirit Rock's Advanced Practitioners Program 2019-20.
She holds a MA in Economics from University of Washington ('95) and a BA in South East Asian Studies and Economics from University of Wisconsin-Madison ('92). She has developed a diverse set of skills in her life and work that allows her to lead students in healthy, meaningful exploration.
She is passionate about natural surface trails, both from the environmental and end-user perspectives. She has been an active trail advocate at the local and state level for 10+ years and is currently a founding member of a local non-profit created to provide a forum for trail users to advocate for sustainable trails in and around San Luis Obispo County.