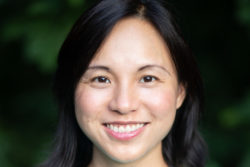 Lin Wang Gordon
NewYork, NY
About Me
Lin has studied insight meditation under the guidance of Jonathan Foust and Mark Coleman in the past decade.  In stillness and silence, she discovers the transformative power of mindfulness practices to help live a life of flow, joy, grace and gratitude.
In the last few years, Lin was particularly moved by the power of nature meditation to connect with a deep sense of well-being, love, wonder, resilience, and interconnection with all beings.  Our human-centric worldview dissolves, and we realize we are but a small part of a greater intelligence.   Lin was inspired to share nature meditation as a doorway for personal transformation as well as a form of environmental activism.  By helping people forge a visceral and deep love for the Earth through intimate and direct experiences, Lin hopes that these practices will inspire people to actively protect the Earth.
She graduated from Mark Coleman's Awake in the Wild Nature Meditation Teacher Training in 2017. She teaches the Sacred Earth Sangha at New York Insight Meditation Center and nature retreats around the country. She is enrolled in the Spirit Rock Community Dharma Leaders Program (CDL6), which deepens her skills in sharing Buddhist teachings in diverse communities.
Besides meditation, Lin is a kundalini yoga teacher and a reiki practitioner. She's deeply influenced by group dreamwork and studied with Jeremy Taylor. Out in the world, she has been a digital marketer, and currently serves on the Board of the New York Insight Meditation Center. She holds a BA from Barnard College, and an MBA from NYU.