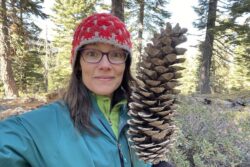 Maureen Downing-Kunz
Western USA
Baja North, Mexico
About Me
Maureen (she/they) is a lifelong nature lover and student of Earth. Maureen is a seasoned and multi-modal explorer of the public lands of the USA and Baja California, Mexico. Maureen enjoys hiking on and off trails, backpacking, mountain biking, wildlife tracking, and nature photography. Her/their spiritual journey began in earnest as a young adult through the study of meditation and Buddhism and continues today by attuning to the sacred in nature.
Maureen holds advanced degrees in Civil and Environmental Engineering from the University of Louisville and the University of California, Berkeley, and works as a hydrologist at an environmental services consulting firm in California. Maureen is in the process of decolonizing herself and unlearning many aspects of modern science. In their career as a hydrologist, Maureen seeks to bring indigenous science and wisdom to the field of environmental restoration.
Maureen identifies as a queer, non-binary earthling and is passionate about creating inclusive spaces for all beings. Maureen seeks to support humans in realizing their interconnection with nature to foster environmental stewardship and heal our relationship with our more-than-human relatives and each other.