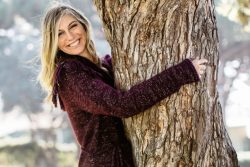 Melanie Pensak
Colfax, CA
About Me
Melanie Pensak, a Certified Mindfulness Teacher and Earth Protector, offers nature-based meditation experiences designed to honor Mother Earth, cultivate interconnection to the land and guide humans into a daily mindfulness practice.  She is known for her 4 -year Airbnb Experience Meditate @ the Beach in Los Angeles.
Melanie presently leads nature classes and half day nature-based meditation retreats on Nisenan land in the Sierra Foothills of California.  During this time of safe distancing, Melanie also offers online nature meditation classes via Zoom as well as one-on-one nature-based mentoring.
She is particularly interested in the concept of reciprocity creating outdoor mindfulness workshops which integrate responsible restoration of the land and support regenerative farming practices.  Melanie feels passionate about helping people incorporate mindfulness and nature into their modern, busy lives after living in cities herself for 15 years.
Melanie presently lives and works in community on an organic farm. In her free time, she enjoys learning how to be a part of systemic change towards more regenerative living for all beings.  She volunteers her time with Extinction Rebellion and Farmers Footprint.  Melanie can be found wading in the American River, salsa dancing and refining the art of doing nothing when it is time to play.
Learn more at www.melaniepensak.com.