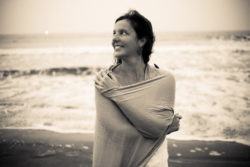 Natasha Deganello Giraudie
San Francisco, CA
About Me
Natasha Deganello Giraudie is interested in aligning with the divine in nature, as a mother, documentary filmmaker and teacher of nature practice.
As a child in Venezuela, Natasha learned some of her most valuable lessons outside the classroom – from indigenous people living on their ancestral lands. As an adult, she studied with the Dalai Lama for 20 years and attended nature-based retreats with Thich Naht Han in his monastery.  She later completed training to become a professional nature mindfulness teacher with Mark Coleman of Awake in the Wild and a certified moon guide with April McMurtry and Sita Rosalie Davis of The Moon is My Calendar.  These influences, as well as her personal experience, inform her work as a teacher of nature-based meditation and wellbeing with groups from the United Nations, Airbnb or at the One World Ayurveda center in Bali.
Her current series of short films, One Word, was selected by Robert Redford and the Redford Center as a powerful voice at the intersection of youth, indigenous wisdom and climate resilience. Her experiential nature meditation film, Inmanencia, was selected to be screened in festivals around the world from Boulder to Buenos Aires to Bhutan, where it won the Audience Choice Award.