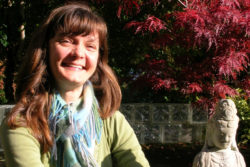 Rachelle Cornelius
Eugene, OR
About Me
Rachelle is the owner of Creative Spirit Collaborative and the Executive Director of Foundation for Alternative Healing, as well as counselor and coach with specialities in Expressive Arts, Animal Facilitated, Somatic, Eco and Mindfulness based therapies.
Rachelle's life long history with dance and befriending the earth and animals from a young age has inspired the approaches used at CSC. Rachelle's interests in natural healing, movement, and connection with the earth deepened in her academic work.  Rachelle's Master's Degree from Naropa University in Wilderness Therapy was founded on Transpersonal Psychology, psychology and application of 'Buddhist inspired' meditation and mindfulness practices to nature based therapeutic activities and incorporated aspects of expressive arts and movement based approaches as well.  Rachelle's Bachelor's Degree from Bastyr University emphasized nutrition, exercise, and alternative healing practices.
Rachelle has studied yoga philosophy in depth since 2010 with teacher Dave Curtis's Aksara Yoga and has had an ongoing yoga and meditation practice since 2000. Rachelle began regular wilderness solos in 2005 and has done wilderness solos and training with John P Milton's Sacred Passages, Dave Talamo's Wilderness Reflections, and Anne Stine's Wilderness Rites.  Rachelle has also had additional training as a life wellness coach from WellCoaches.