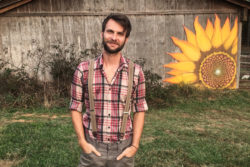 Topher Stephens
Carrboro, NC
About Me
Topher was raised on the banks of the Tuckaseegee River on occupied ancestral Cherokee land in Southern Appalachia. Much like the smooth and worn stones tumbled by those slow ceaseless waters, Topher has been moved and shaped by immense beauty of the natural world, cracked open and heartbroken by the tragedy of ecological devastation, and remembered whole by the wisdom of slowness.
Having spent the past decade traveling and leading youth on programs to  India, Southeast Asia, Central & South America, Topher's teaching is deeply informed by the myriad of traditions and cultures he has had the privilege of learning from. Finding guidance in the teachings of Thich Nhat Hanh, Joanna Macy, Robin Wall Kimmerer, bell hooks, and indigenous land-stewards  around the globe, his teaching focuses on exploring the ways that we can collectively restore our belonging with the more-than-human world and the ways that he and other settlers on Turtle Island can move toward reconciliation and alliance with oppressed and marginalized peoples.
In addition to his training with Awake in the Wild, Topher brings his background in biology, permaculture, socially engaged mindfulness, trauma-informed care, and embodied ancestral healing for racial justice into his offerings. Topher's work is currently based out of the Eco Institute at Pickards Mountain, a community of spiritual ecologists, stewards, and activists near Chapel Hill, North Carolina.